Semi-Late Model Stock Cars
Raced at Wichita, Kansas from 1965 through 1980
Page 1 of 11
By Bob Lawrence
Steve Bush, at right, with Tom Parker
Mike Cornelison photo
John Shearhod with car owned by George Riley
Mike Cornelison photo
Roy Andrews in car owned by Gary Beyer
Mike Cornelison photo
Phil Edwards
Mike Cornelison photo
Ed Brady
Mike Cornelison photo
#020 Terry Dickey in a car owned by Pinky Mullens, #168 Dave White in car a owned by J. L. "Mack" Macklin, #44 Steve Kammerer in a car owed by Dave Harrison
Mike Cornelison photo
Harlan Gile in car owned by Harold Littlejohn
Mike Cornelison photo
Gary Moore drove this Pinky-Mullens-owned car
Bob Lawrence collection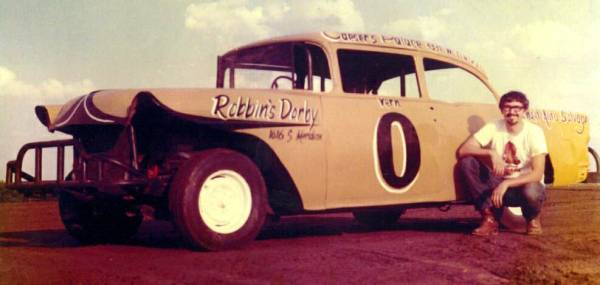 Vern Allen
Vern Allen collection
During a short racing program due to a lack of cars one Sunday night in the fall of 1963, the announcer at "81" Speedway asked if anyone in the grandstands had a car in the parking lot that they might like to bring out onto the then ¼ mile racetrack after the A feature for the super modifieds and run a few laps. About half-dozen men accepted the offer including Roy Andrews, Gary Moore, Jack Johnson, and Ron Miller. Seat belts were the only requirement when the cars, complete with upholstery, working lights, and glass, ran a short race that was ruled complete after most of the cars had crashed.
The following week, the announcer made the same announcement and, by the third week, there were approximately 14 "novice" drivers competing in the one race for them that night. The total purse was $25, all of which went to the race winner. After that, the racing was over for the year but the announcer asked the crowd if they would like to see such races continue at "81" Speedway the following year. The crowd's response was resoundingly positive.
The racing season for the novice class began the following year on Sunday night, April 19, 1964 with two races for the class paying a total purse of $50 all of which went to the feature winner. Richard Perry won the heat race that night and Max McCall won the 15-lap A feature.
By Memorial Day weekend, the weekly field had grown to approximately 60 cars, the A feature race to 25-laps, and the total nightly purse to $100. At that time, the heat race and the feature each paid out approximately the same amount in prize money. By this time, the cars were required to be between 1949 and 1960 models with the stock engine and body being the same make and year. The lights, glass and chrome had to be removed and at least one roll bar added, either behind, or over the driver's head. Drivers were not supposed to have driven in any other class of racing before although that rule was found to be difficult to enforce. The racing was more "dodgem cars" than anything due to so many cars being stuffed into just the two races each week. More than one driver claimed they were successful in the novice class, not by going all that fast but by just from not running into anything.
On June 7, 1964, Gregory Griffith was injured in a crash that prompted the rules being changed to require the removal of the upholstery (including the bench seats) and the addition of full roll cages and bucket seats.
On July 5, 1964, more heat races and a trophy dash were added to the program.
The racing season ended on November 8, 1964 with Ron Miller having won three A features. Roy Andrews, Iran Wheeler, Mel Montgomery, and Phil Edwards had won two A features each while one feature victory went to Max McCall, Lonnie Snowden, Richard Massey, Gil Story, Bill Mills, Jim Grantham, Bill Elliott and Marvin Atkinson. Roy Andrews, driving his own white Plymouth #17, was crowned the novice points champion at "81" Speedway for 1964.
Another rule change at the beginning of the 1965 season allowed any male 18 years of age or older to drive in this class. (This was back in the era when women were not even allowed to be in the pits during a race.) That rule change allowed drivers such as Frank Lies and Pinky Mullens to begin competing in the class which they did. The class was drawing so many entries and such a fan following that it was given its own regular night (Saturday) of racing separate from the super modifieds. The class was given a new name as well. It became the semi-late model stock car class and the total purse was increased to $316 with $120 of that going to the winner of the now, 20-lap A feature. Ford-mounted Mel Montgomery was crowned the point champion of the new class for 1965 at the now ⅜ mile "81" Speedway. Gary Vogt, who also drove a Ford, was voted the most popular driver for 1965 in the semi-late model stock cars.
The 1966 season for the semi-late models opened on the new half-mile Air Capital Speedway on the west side of Wichita on Friday nights as well as at "81" Speedway on Saturday nights. Air Capital Speedway's Fred Springs was not quite as restrictive with the rules there as was Bill Hall at "81" Speedway although both racetracks began allowing later model engines to be installed in older model cars of the same make as long as both the engine and the body were manufactured between 1949 and 1960. A "rookie car" class (later known as "hobby stocks") was added as a support series for the semi-late models at both racetracks that year. Air Capital Speedway operated for most of the summer but then closed down prematurely without crowning any point champions, although Ed Schauf was the leading contender for the crown driving his own black Chevrolet #43 when the racing ended there. Pinky Mullens, driving his own pink and white 1957 Ford, was crowned the semi-late model point champion for 1966 at "81" Speedway.
The semi-late models competed primarily at "81" Speedway in 1967 and the purse increased to $3,200 per night. Pinky Mullens repeated as the point champion in his pink and white 1957 Ford.
In 1968, "81" Speedway cut down the banking somewhat in the turns and built new grandstands. The changes caused a delay in starting the racing season but Pinky Mullens, who had switched to driving Chevrolets, went on to win his third consecutive point championship. With the increase in the purse from the year before, entries in the class began multiplying along with the size of their fan following.
1969 saw Bud Haehn dethrone Pinky Mullens by driving the John-Rush-owned black over gold 1956 Chevrolet #11 to the point championship. Although cars in the semi-late class had started out being primarily left-side-steering, by 1969, most were center steering cars.
Tom Lutkie drove a Steve-Fortney-owned 1955 Chevrolet #59 to the first of three consecutive point championships in the semi-late model class in 1970. Lutkie and Fortney teamed up to repeat the feat in 1971 and again in 1972. Car counts were also on the rise with 100 entries a night being the norm, rather than an exception. Some nights at "81" Speedway saw up to 10 heat races and up to 6 feature races just in the semi-late model class. The well-organized programs continued to draw capacity crowds. Some rule changes continued as well. Modifications began to be allowed to the car's front firewalls which started a trend to lower profile semi-late models. Maximum tire width was limited to 6½ inches which placed a premium on superior car handling. The five-point restraint systems were mandated with the addition of a "submarine strap" after Bob Lawrence was injured in a crash there on May 1, 1971.
1972 saw five drivers serve brief suspensions for "openly participating in a grandstand disruption." They were Oren Haas, Ralph Henderson, Terry Dickey, Scott Talbert and Knute Seglem. Pinky Mullens was suspended as well for organizing the action.
The Wichita Stock Car Racing Association was formed in 1973 with its elected officers being President Les Foster, Vice-President Jack Johnson, Secretary Gary Francis and Treasurer Bob Lawrence. The organization's stated goal was to help further improve semi-late model stock car and hobby stock racing in the area but the organization disbanded a year later having accomplished little.
Dan Casmaer drove his own yellow Chevrolet #42 to his first point championship at "81" Speedway in 1973 and Ron Case drove his own red Chevrolet #111 to win the point championship there in 1974. In 1975, Dan Casmaer became the first driver to win a second points championship in the class without also winning the points championship the preceding year. Casmaer's car owner in 1975 was Glenn Michaels.
By the mid-1970s, 1960 and older model car bodies were becoming difficult to find so newer model cars were allowed to compete in this class. Terry Dickey became the point champion of the semi-late model class at "81" Speedway in 1976 and Steve Kammerer won that title in 1977 in Dave Harrison's white over blue Chevrolet #44. John Arnce drove an R. J. Ellis-owned red and white Chevrolet #048 to the point championship in 1978 and Lloyd Edmonds took that title in 1979 in a black and yellow car Chevrolet #34. Oran Haas won his first of three consecutive point championships in 1980 although the two championships that followed were after the name of the class had been changed to "Sportsman" due to the class now being dominated by later model cars than the traditional semi-late model stock cars had been.
For a time during the summer of 1970, the Wild West Chrysler-Plymouth dealership in Wichita sponsored the broadcasts of both the A and B feature races from "81" Speedway over KFDI-AM 1070 radio. The 20-lap A feature was broadcast live at about 10 p.m. while the 15-lap B feature race was broadcast via tape delay shortly after midnight. By clicking on the white "CLICK HERE" buttons directly below, you can listen to the late racetrack announcer, Harry Nickell, call those two race broadcasts on Saturday night, June 13, 1970 via a wav file just as the radio listeners heard them that night (although some dead spots during breaks in the action have been edited out). On Sunday afternoon, June 14, 1970; I called the radio station and asked if I could purchase tapes of the races the night before. They said that I could not but, if I would come to the station, they would give me the original reel-to-reel tape they had been using. On my arrival at the station, they gave me the tape saying that they had been taping the next week's races over the old ones once they had been aired and they had planned to use a fresh tape for the next week's races anyway. Therefore, the tape of the broadcast of these two races is believed to be the only tape of the races broadcast on KFDI-AM in 1970 to survive.
As usual, the racing that night was exciting and competitive. At that time at "81" Speedway, no matter how well a competitor finished in any feature race, they were not allowed to advance (or transfer) and start at the back of the next feature race for that class that evening. (That rule was changed in the mid-1970s to allow such advancement.) First place in the B feature paid $75 and prize money was paid eight places back. First place in the A feature paid $120 while cars finishing in the first ten places received some prize money for their effort.
"81" Speedway formed a Hall of Fame that inducted its first class in 2000. Following are those involved with the Semi-Late Model Stock Cars who have been inducted into this fraternity: Al Alexander, Carroll Allen, Darrell Beckham, Sr.; Bill Bookout, Bob Billups, Robert Billups, Steve Bush, Bo Cline, Dick Coleman, Nunie Coleman, Mike Cornelison, Gerald Doty, Arkie Findley, Don Foster, Van Gemmill, Bob Glasse, Dean Gourley, Oren Haas, Bud Haehn, Bill Hall, Shirley Hall, C. Ray Hall, Warren Hardy, Harold Harms, Willie "Wheelchair" Heatwole, John Hebb, Paul Kammerer, Steve Kammerer, Charlie Laing, Jack Lamb, Bob Lawrence, Charlie Lee, Jerry Leep, Frank Lies, Charlie Lutkie, Steve Lutkie, Tom Lutkie, Bill "Chief" McAninch, Frank McGehee, Bryson Mills, Gary Moore, Mel Montgomery, Rick Mueller, Buddy Mullens, Pinky Mullens, Bill Nelson, Harry Nickell, Charles Omerod, Larry Pankratz, Jack Petty, Ernest Ramey, Bob Reed, Bill Rigsby, George Riley, Ray Riner, John Rush, Ed Schauf, Mel Shipman, Lena Smith, Lonnie Smith, M. B. "Smitty" Smith, Jerry Stone, Arnold Stoner, Glenn Stultz, Chet Wilson and Rich Wilson.
The largest majority of the photographs that are spread over eleven pages of this website, by far, were taken by Mike Cornelison and they show just some of the hundreds of cars that raced as semi-late model stock cars in the Wichita area during this time period.
To Listen to a wav file of the B Feature Race

at "81" Speedway as it took place on

Saturday night, June 13, 1970

File size: 6.64 MB* - Length: 10:29

To Listen to a wav file of the A Feature Race

at "81" Speedway as it took place on

Saturday night, June 13, 1970

File size: 111.63 MB** - Length: 10:09

To Go on to Page 2 of

Semi-Late Model Stock Cars

To Go on to Page 3 of

Semi-Late Model Stock Cars

To Go on to Page 4 of

Semi-Late Model Stock Cars

To Go on to Page 5 of

Semi-Late Model Stock Cars

To Go on to Page 6 of

Semi-Late Model Stock Cars

To Go on to Page 7 of

Semi-Late Model Stock Cars

To Go on to Page 8 of

Semi-Late Model Stock Cars

To Go on to Page 9 of

Semi-Late Model Stock Cars

To Go on to Page 10 of

Semi-Late Model Stock Cars

To Go on to Page 11 of

Semi-Late Model Stock Cars
* Due to the size of this file, it could take several minutes to access it if you are using a smart phone, iPad, or other such device.
** Due to the size of this file, it will probably take several minutes to access it if you are using a smart phone, iPad, or other such device.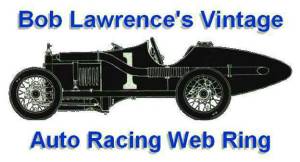 Thank you to James Anderson, Roy Andrews, Scott Bush, Dwight Carter, Mike Cornelison, Dwayne Cox, Ron Cunningham, Robert Lamb, Kevin Lawrence, Steve Lutkie, Davie Moore, Gary Moore, Charles Omerod, Wallie Omerod, Jim Petty, Bob Reed, Gale Scarborough, Lonnie Snowden, Dave White, KFDI-AM radio, and to anyone else that I might have neglected to mention here.